Our story actually starts when Gary Taia was young, racing jet boats and hunting with his father around New Zealand.
OR maybe it starts when Gary's sons started joining him on deer hunting trips up the rivers. Going up river on a jet boat with all their gear and dogs seems like the obvious way to go now!
Gary Taia is a well-known New Zealand jet boat driver and engineer. His business, GT Marine & Alloy Services Ltd (established in 2005), has an excellent reputation for building high end, custom boat trailers as well as boat and engine repair and maintenance services.
Gary's wife, Harriet, is a Whakatane local and the couple run their extensive business operations on there self-built family property. This truly is a "whanau" enterprise.
Harriet joined the business in 2019 as a move out of her highly successful career as a business and operations manager for a number of large corporate enterprises. Taking the helm at AwaJets has been an exciting move for Harriet who was ready to give up the corporate world to help build the family business.
Based at the gateway of the Urewera Valley with the Whakatane river providing a pathway into the ranges, famous for some of the best hunting and fishing in New Zealand, the Taia family is naturally into hunting and gathering while exploring this mostly untouched native environment.
This combined passion for hunting and jet boats led Gary to find a way to develop a boat that would allow him to take his family and friends on hunting trips up the local river systems, that would be otherwise difficult to reach on foot or by helicopter.
Gary's experience in building jet boats lead to him finding a unique inflatable hull designed specifically for skimming up rivers and across rocky river beds. His expertise in jet engines then allowed him to customise an outboard motor that would provide the best power to weight ratio for the boat while being strong enough to withstand such challenging environments.
The design of our specialist hunting and fishing boat allows plenty of space for dogs, gear and people to ride comfortably as well as enter and exit the boat quickly and safely. Gary often takes the customised 475 with 1-2 other people, 5 dogs and all their hunting gear plus they will often bring 1-2 deer back home with them.
This boat has seriously been put to the test before Gary was prepared to invest in this new business.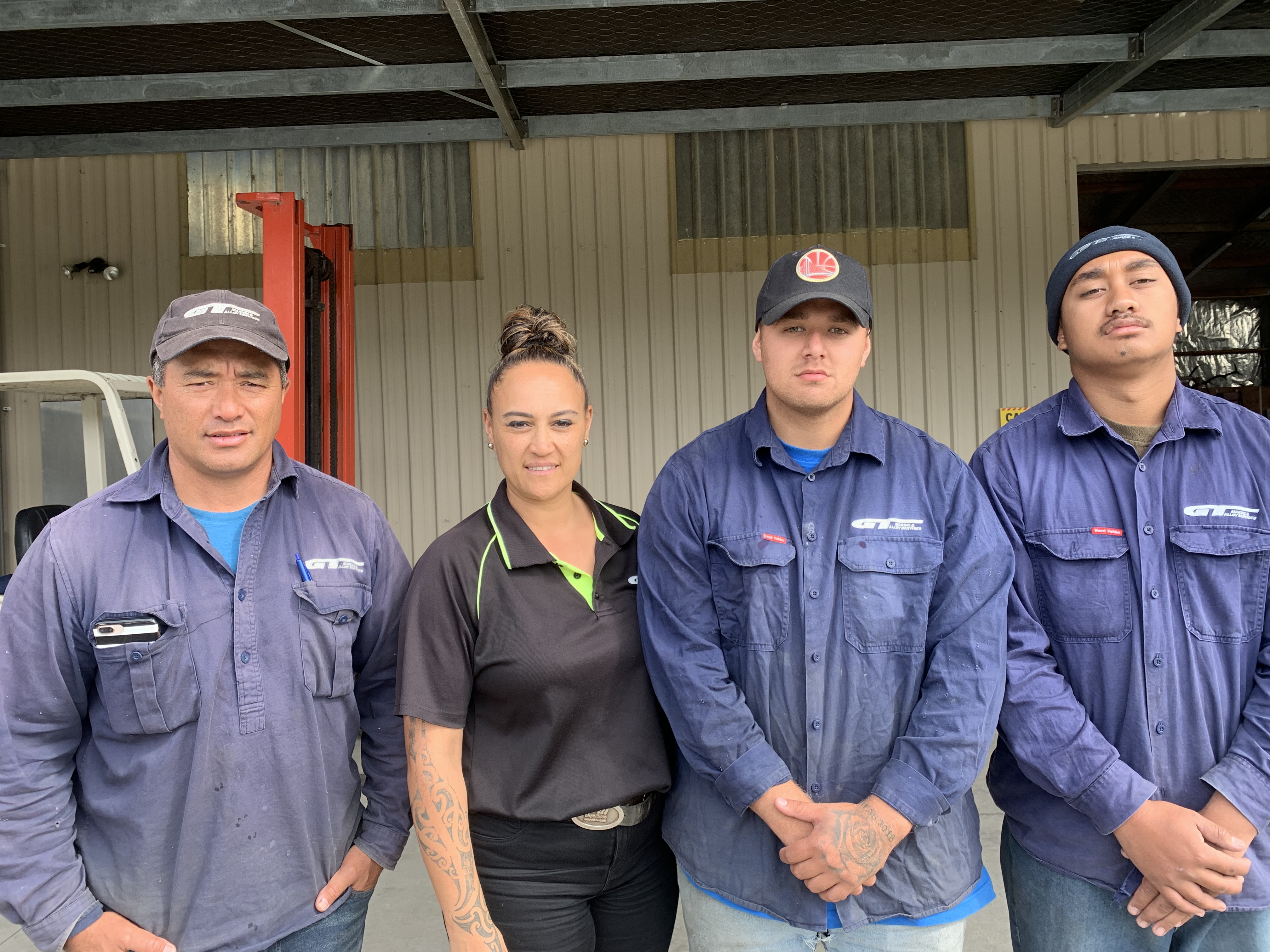 Introducing (from left to right): Gary Taia (Workshop Manager - Ngati Porou), Harriet Taia (Operations Manager - Ngai Tuhoe), Kody-Lee Taia (2nd Year Apprentice) & Wioke Biddle (1st Year Apprentice).
If you are interested in establishing a career with us or would like to join our team then please email Harriet here.
Our Pepeha
Gary Taia
Ko Horouta te waka
Ko Hikurangi te maunga
Ko Waiapu te awa
Ko Ohinewaiapu te marae
Ko Ohinewaiapu te whare tipuna
Ko Ohaki te wharekai
Ko Te Whanau a Takimoana te hapu
Ko Ngati Porou te iwi
Ko Gary Taia taku ingoa
Harriet Taia
Ko Mataatua te waka
Ko Maungapohatu te maunga
Ko Ohinemataroa te awa
Ko Waikirikiri te marae
Ko Toikairākau te whare tipuna
Ko Kura-i-mōnoa te wharekai
Ko Hamua te hapu
Ko Ngai Tuhoe te iwi
Ko Harriet Taia taku ingoa

My husband and I were privileged to be able to hunt with Gary on his boat and what an awesome experience it was. We were able to penetrate deep into the Ngahere via the river. We quickly accessed the good hunting spots. These spots would normally take a long day of walking to access.
The boat managed the problematic areas of the river with ease and our comfort was not compromised. The boat was more than capable of the payload of 3 people, 3 dogs, and our hunting gear. Not to mention our harvested quarry on the return trip home.


I have been using GT Marine and Alloy services for over 10 years now for all alloy repairs to my truck and trailer units. Their workmanship and service are second to none. I would have absolutely no hesitation in recommending them.